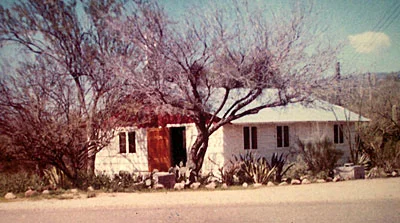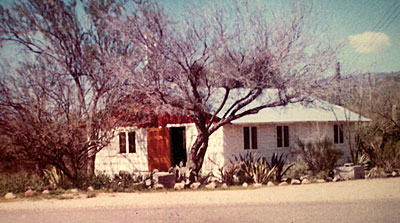 Old Cave Creek Museum Building in 1950
Founded in 1947
On the land where Good Shepherd of the Hills is located, an Episcopal Church has existed since 1947. How did we begin and what is the story of our transformation from a small mission church to "The Little Church with the Big Heart?"
In 1947, Episcopalians living in the area of Cave Creek, Arizona approached Bishop Arthur Kinsolving II at the Trinity Cathedral in Phoenix with a request for a local church. On December 7, 1947 a Preaching Station was opened in Cave Creek with a Sunday school for local children. They met in the old Cave Creek School, also known as "Mrs. Elsie Linn's School." The preaching station used the school building for church services for the first three years and, although the service used was based upon the worship of the Episcopal Church, all residents in the area were invited to attend.
A public service of Thanksgiving was held at the church on Easter Sunday, 1950, and on December 3, 1950, Bishop Kinsolving consecrated the Mission of the Good Shepherd of the Hills. The Bishop assigned The Reverend Philip Nelson as Vicar. Father Nelson and his wife chose the name of Good Shepherd of the Hills for the new church and that name was accepted unanimously by the congregation. That building was the home for church services for the next 18 years until the present church was built in 1968 and consecrated in 1969.
Present Church Built in 1968
In 1968, the present church that we still worship in today was built. The new church was designed to reflect the Spanish-Pueblo heritage of the early Southwest.
Designed by Scottsdale artist Francis Beaugureau, the architect was Dean Galasco and the builder was Trilby Gillespie. The central feature of the sanctuary was a bronze altar screen design  by Lee Porzio and executed by her husband, Allan Ditson. The two bells in the tower, which were donated by the young artist, Alba Heywood III, in memory of his grandmother, Bertha Hoag, are said to be the oldest in North America.
Today, Good Shepherd of the Hills has grown into a community involved and outreach focused parish with 23 local and international programs.